A new generation of hemp oil.
Safe, effective, and completely legal.
What is Hemp Oil +?
Thorne's Hemp Oil + is a synergistic, clean blend of phytocannabinoids that supports and regulates one of the body's most important, yet little-known, systems — the Endocannabinoid System.* By nourishing this system, Hemp Oil + can benefit users by relieving stress, easing discomfort, and improving gut motility.* For many individuals, the positive effects of Hemp Oil + will be felt immediately.
Not to be mistaken with marijuana
Hemp and marijuana both come from the same species of plant – Cannabis sativa. However, they are completely different cultivars of that same plant. Hemp is cultivated, primarily in Europe, for clothing, dietary supplements, foods, and other commercial items. Marijuana is cultivated in the United States for the purpose of increasing the content of the plant's only psychoactive phytocannabinoid, THC, for medical and recreational use. Naturally cultivated European hemp contains no more than 0.3-percent THC, which permits it to be legally imported into the United States and legally sold in all 50 States.
See the Certificate of Analysis for Thorne's Hemp Oil +, verifying the product contains less than .3% THC.
Can Hemp Oil + help you?
Balance the body's response to stress and anxious feelings*

Relieve nerve-related discomfort*

Support the health and regularity of the digestive system*
What makes Thorne's product better
Other Brands
Why you should care
Other Brands
Tested and verified to be at or below legal levels
Can be above legal limits and can lead to failed urine drug test
In 2016, the FDA purchased and tested 24 products labeled as hemp oil and found a majority to be mislabeled.
Only two of the tested products complied with their label claims. And many of the products tested had excessive amounts of THC — a psychoactive substance. Some had THC levels high enough to cause impairment or a positive drug test. Although related to marijuana, industrial grade hemp oil only has a negligible amount of THC in it; i.e., less than 0.3 percent. The FDA's results from 2016 suggest that many hemp oil products might not be what consumers think they are.
Other Brands
5
1
Most other brand's products are single ingredient hemp products; at Thorne, we add numerous other plant extracts – including clove and black pepper – to provide a synergistic mix of phytocannabinoids and terpenoids.
This is what is called the "entourage effect," these different compounds have different interactions with the endocannabinoid system (as well as complementary actions outside of the ECS) that provide a more comprehensive approach to nourishing the entire system (versus an isolated compound with only one mechanism of action).
Other Brands
5 mg
> 1 mg
Beta-caryophyllene is an important phytocannabinoid. Although found in small amounts in hemp, more concentrated amounts of it are found in other plants like clove and black pepper – two ingredients included in Thorne's Hemp Oil +.
Beta-caryophyllene binds specifically to the CB2 receptors in the endocannabinoid system and in doing so enhances the activity of the body's own cannabinoids. The presence of beta-caryophyllene is highly complementary to those compounds in hemp oil that do not bind to the CB2 receptors.
Other Brands
Naturally Occurring
Spiked
Many companies violate federal law by spiking their hemp oil products with isolated cannabinoids rather than using natural hemp oil that contains naturally-occurring phytocannabinoids.
Non-GMO
(as certified by the European Union)
Other Brands
Yes
No
The hemp oil in Hemp Oil + is certified in the European Union as being Non-GMO, which is another reason why you know it is made from the highest quality hemp stalk and seed oil. The other ingredients in Hemp Oil + are not Non-GMO certified.
Other Brands
Yes
No
Many other brands and suppliers grow hemp stalk without concern for the environment. At Thorne, environmental sustainability is a priority. The hemp in Hemp Oil + adheres to European eco-farming standards.
Organic
(as certified by the European Union)
Other Brands
Yes
No
Organic hemp crops grown and harvested in Europe are not sprayed and contaminated with pesticides that can adversely impact health.
On the other hand, non-organic domestic hemp crops are often sprayed and contaminated with unlisted and unauthorized pesticides.
Complementary ingredients
---
Thorne's Hemp Oil + features ingredients that create an "entourage effect," interacting with the endocannabinoid system in a way that provides a more comprehensive approach to nourishing the entire system than does hemp oil alone.* All of the following ingredients in Hemp Oil + are supplied to Thorne by Verdant Oasis, one of the most respected producers of Eco-Certified, non-GMO European hemp. Verdant Oasis utilizes proprietary CO2 extraction and processing technology.
Hemp Extract
(stalk and seed)
Includes a full spectrum of naturally occuring phytocannabinoids and terpenoids from hemp stalk sourced from Poland and diluted in a base of nutritionally-rich hemp seed oil.
Clove Extract
(bud)
An excellent source of beta-caryophyllene, it stimulates CB2 receptors and helps maintain a normal inflammatory response in the GI tract, liver, skin, and nerves.*
Black Pepper
Extract (fruit)
Another great source of beta-caryophyllene, and like Clove Extract, it also stimulates CB2 receptors and helps maintain a normal inflammatory response in the GI tract, liver, skin, and nerves.*
Hops Extract
(strobile)
Provides a source of humulon and lupulon, compounds that are synergistic with phytocannabinoids in support of the ECS and promote relaxation and a positive mood.*
Rosemary Extract
(leaf)
Acts as a natural antioxidant preservative.* Contains terpenoids (including camphene, pinene, and limonene) that support a healthy inflammatory response and promote relaxation.*
Everything a hemp oil should be
---
Michelle Seidel
Lawyer and mother of four
"I was so relieved that I could feel a difference.* It helped me manage my stress and anxious feelings.* This well-researched product with no known side effects was the answer.* I hope it helps other people as much as it helped me."
John Burke
Entrepreneur and runner
"I am happy to report that Hemp Oil + significantly improved my ability to get through the day. It provided relief from the nerve-related discomfort that I feel throughout my body."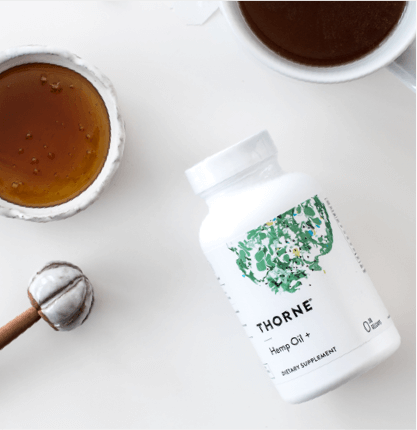 Alexis McKenna
Teacher
"I have struggled with gut-related issues my entire life. Thorne's Hemp Oil + helps me get me through my day now. Taking the product daily, I now experience less spasms and more regularity.* I couldn't be more thankful that my doctor recommended this product to me."
What the professionals say
---
Gary Huber, DO, AOBEM
Integrative Medicine
"I know that hemp oil works for my patients. We have tried a number of hemp oil options in the past, but Thorne's is the first to commit to eco-friendly, organically sourced materials that are intelligently crafted to include a more complete complement of cannabinoids that enhance their function.* Once again Thorne has asserted itself as the true intelligent choice."
Kenneth R. Pelletier, PhD, MD
Clinical Professor of Medicine and Psychiatry at the University of California School of Medicine, San Francisco
"There are many patients looking for alternative remedies to manage aches and soreness, who turn to treatments like acupuncture, and ask about nutrition and botanicals that can help. The compounds in hemp oil offer real advantages for these patients because these compounds tap into the powerful functions of the endocannabinoid system."
Joel Dudley, PhD
Associate Professor at Mount Sinai School of Medicine
"A large number of clinical research studies have shown the positive potential health benefits of targeting the endocannabinoid system, and many additional studies are underway. The broad availability of a high-quality hemp oil extract such as Thorne's Hemp Oil + will allow consumers to quickly take advantage of these discoveries and maximize their health."